World Index : Europe/ Southern_Europe/ Portugal /Ribatejo_e_Oeste/Batalha

Portugal Villa Apartment with Pool and Tennis Court for Holiday Rental
Links:
Pousada Mestre A. Domingues ***

- Hotel Do Mestre Afonso Domingues faces the famous abbey of Batalha, UNESCO Patrimony Monastery of Santa Maria da Vitória. 10km to grottoes at Santo Antonio. Explore the caves at Mira D'Aire and a fascinating historical region, with deep religious tradition, the Fatima sanctuary being a fine example. White stone, wooden window shutters and wrought iron balconies. Rooms are decorated in rich dark wood, some with four poster beds. Restaurant offering traditional Portuguese and regional cooking.

pop (Added: 11-Dec-2004 Hits: 45)
Batalha

- The Abbey of Santa Maria da Vitória is a UNESCO world-heritage site. Commenced in 1388, and enhanced by various Kings over the centuries the cathedral is an outstanding example of Gothic and Manueline architecture. Under its naves you will find resting the tombs of João I, his English wife Philippa of Lancaster, and their famous offspring, Prince Henry the Navigator whose efforts helped to explore the world.

(Added: 21-Jun-2006 Hits: 8)
Mestre Afonso Domingues Pousada ***

- In the noble Square opposite the Monastery of Batalha- a spectacular example of Gothic and Manueline architecture. The imposing Leiria Castle stands 12 kilometres from the hotel. This Pousada is the perfect starting point to discover this fascinating region, bathed in deep religious tradition, being close to the sanctuary of Fatima. Offering 19 guest rooms and 2 suites, each with an en-suite bathroom, the hotel also provides an inviting restaurant and bar.

(Added: 11-Dec-2004 Hits: 33)
Add your favourite holiday, villa or travel resource in the relevant section.
---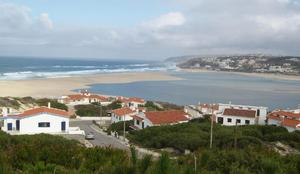 Property Silver Coast - Villa For Sale