World Index : Europe/ Southern_Europe/ Portugal /Ribatejo_e_Oeste/Obidos

Portugal Villa Apartment with Pool and Tennis Court for Holiday Rental
Links:
Marriott Praia D'El Rey Golf and Beach Resort

- Five-star luxury resort hotel in Western Portugal. Situated on six hundred acres ten miles west of the medieval fortress town of Obidos and just a one hour drive from Lisbon, the hotel offers deluxe guest accommodations with breathtaking views of the Atlantic Ocean and Praia D'El Rey golf course. This eighteen hole championship seaside course will challenge and entertain any level of golfer. Golf World Magazine ranks the course on its list of the top one hundred courses in continental Europe.

pop (Added: 26-Nov-2004 Hits: 80)
Castelo Pousada Obidos

- One of the most well known of all pousadas, Pousada Do Castelo, is located within the walls of Obidos castle. This is the centrepiece of the medieval village, listed as a world heritage site. The town is over 800 years old and is surrounded by walls. The Castelo also boasts a tasteful restaurant that serves delicious traditional cuisine. Only 9 guest rooms.

(Added: 27-Jul-2004 Hits: 11)
Obidos

- Obidos is a medieval walled town which enjoys a magnificent present-day state of repair as a result of its status as the traditional gift from Portuguese kings to their wives. The monarchy was overthrown only in 1910 and Obidos reflects the benefits of its patronage until these relatively recent times. Within the walls are fascinating alleys which have become home to high-class handicraft and gift shops as well as bars and restaurants of repute.

(Added: 21-Jun-2006 Hits: 9)
Portugal Holiday Destinations - Golf and Beach Villas

- Luxury villa accommodation in the most beautiful part of this lovely country - superb beaches; a glorious climate; golf; fascinating history and all within easy reach of Lisbon, a lively and beautiful capital city.

(Added: 25-Sep-2005 Hits: 10)
Add your favourite holiday, villa or travel resource in the relevant section.
---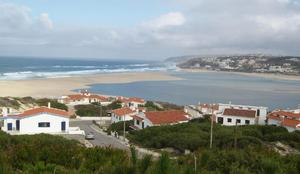 Property Silver Coast - Villa For Sale